Vice President for Advancement and Strategic Initiatives
On
12 May, 2013
By
admin
0 Comments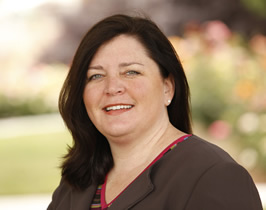 Elizabeth Power Robison began her term as vice president for advancement and strategic initiatives at Whittier College on March 12, 2007.
Robison came to Whittier from nearby Keck Graduate Institute (KGI) in Claremont, where she served for nearly three years as vice president for advancement, overseeing all aspects of annual and campaign fundraising, communications, alumni relations and special events. While at KGI, she was instrumental in securing a $20 million matching challenge grant from the W.M. Keck Foundation—a critical success in KGI's first-ever fundraising campaign.
From the start of her career in development, which began with a research position at Pomona College in 1993, Robison has quickly advanced in the field and successfully tackled a variety of fundraising roles. Prior to KGI, she served as director of development for Occidental College, where her work with alumni volunteers resulted in a 2002 Award of Distinction from the Council for the Advancement and Support of Education; individual gifts officer for Mount Holyoke College; and director of annual giving at both Scripps College and Brandeis University. While at Brandeis, Robison assumed additional responsibilities as director of campaign operations, planning and managing an impressive $470 million comprehensive campaign.
Robison holds an M.B.A. from the University of Southern California's Marshall School of Business, and a bachelor's degree in American Studies from Brandeis University in Massachusetts. An invited speaker on the topic of philanthropy and education at seminars both here and abroad, she has also been an active volunteer in a number of community service and outreach organizations, such as the Eagle Rock Community Cultural Center, House of Ruth, and Hugh O'Brien Youth Leadership programs.
Contact
College Hall, First Floor
562.907.4213
eprobison@whittier.edu