Inside Latin Jazz Presents Lázaro Galarraga
Date and Time:
Tuesday, September 24, 2013 - 8:00pm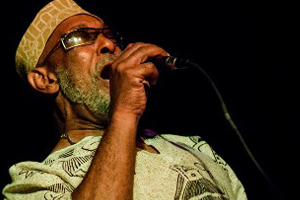 Whittier College's Inside Latin Jazz series continues to offer fascinating and penetrating onstage interviews with leading Latin Jazz artists. Moderated by flute soloist and Professor at Whittier College, Danilo Lozano, this is something every lover of music will not want to miss. 
On September 24, Inside Latin Jazz kicks off its season with Lázaro Galarraga, the founding member of the distinguished Conjunto Folklorico Nacional de Cuba and the Folkloric Ballet of Cuba. For more than 60 years, Galarraga has been a drummer, dancer, and singer in the Afro-Cuban folkloric and religious tradition.
Thanks to the generous support of the BCM Foundation, tickets to the Inside Latin Jazz series are free. For tickets or more information, visit the Shannon Center website.