Ortiz Programs
On
28 Apr, 2013
By
rrafferty
0 Comments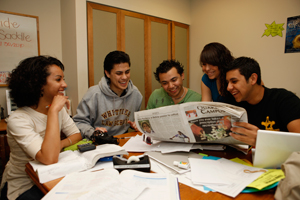 The Ortiz Programs, named after Martin Ortiz (Whittier Class of 1948), seek to expand knowledge and awareness of Latino culture, language, and history through a variety of events and activities. The Ortiz Programs provide academic and career resources, as well as financial aid guidance and overall emotional support, primarily to first-generation Latino students. The program serves as a liaison between Latino students, parents, alumni, community organizations, and the Whittier College community.
Connect to the Whittier College Ortiz Programs via Facebook.
Annual Events (sponsored in part by Southern California Edison)
Orientation Session for Spanish-Speaking Parents: Parents and students attend a special orientation session in Spanish to learn about the history, mission, and values of Whittier College. Information is also provided about academic and career resources, financial aid, and other support services available to all students, with an emphasis on resources offered by the Ortiz Programs.
Tardeada: A yearly warm welcome to our new and returning students, their families, alumni, faculty, and friends of the College and a celebration of our Hispanic culture with traditional food, music, and dances from Latin America.
Hispanic Heritage Month: A yearly celebration of the culture and traditions of U.S. residents who trace their roots to Mexico, Central America, South America, and the Caribbean.
Día de los Muertos: A day to celebrate and honor our ancestors by participating in a "sugar skulls" workshop and "Day of the Dead" altar.
Brindis Navideño: A Latin American tradition, celebrated during the weeks before Christmas, brings our community together to recognize the hard work of student group Amigos Unidos. In addition, we give back to our community by collecting blankets and toiletries for the homeless. Guests enjoy Villancicos de Navidad (christmas carols in Spanish), traditional performances, as well as delicious treats made for the occasion.
Latino Graduate Celebration: An intimate event hosted by student group Amigos Unidos to highlight the achievements of our graduating seniors. Celebrated at the Ruth B. Shannon Center for the Performing Arts, the graduation brings students, families, faculty, alumni, and friends together to recognize all those who contributed to our students' success.
Student Organizations
Amigos Unidos - Whittier College is proud of its sizeable Latino population, and Amigos Unidos (formerly Hispanic Student Association) is very active in promoting Latino issues and culture through different social events, field trips, and speakers from the community. In addition, Amigos Unidos does outreach into the surrounding area through community service and mentoring college-bound students. Amigos Unidos has played a key role in implementing the annual Latino Graduation Celebration and also participates in the coordination of specialized events, such as Tardeada.
Contact: amigosu@poets.whittier.edu
Movimiento Estudiantil Chicano de Aztlan (MECHa) - MEChA seeks to promote Chicano/Latino unity and empowerment through education and civic engagement. MEChA is very active in advocating for Latino issues on campus and plays a key role in organizing educational events, such as Hispanic Heritage Month and New Student Orientation. MEChA members are also active in the local community, reaching out to local high school students and motivating them to continue their studies.
Contact: mecha@poets.whittier.edu
Alumni Organization
Alianza de los Amigos
Alianza de los Amigos is Whittier's Latino alumni association. With currently more than 27% Latino undergraduate students at Whittier College, Alianza is dedicated to the educational success of these talented and dedicated students and serves in a variety of ways, including raising funds for scholarships and other programs.
For more information about Alianza de los Amigos, please click here.