On-Campus Dining
On
10 Jun, 2013
By
admin
0 Comments
Two on-campus dining options - the Campus Inn (CI) and The Spot - are open daily for all students. Both the CI and The Spot accept Flex Dollars, cash, and credit cards. The CI also accepts meal plans.
For information on meal plan options for commuter students, click here.
---
The Campus Inn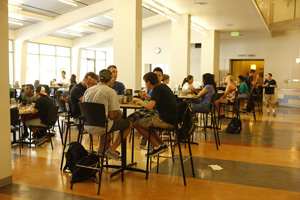 Serving as the campus' main cafeteria, the Campus Inn – or 'CI' - is located on the second floor of the Campus Center and offers a variety of foods served from different stations, including Café Classics, Exhibition, Deli, Grill, Ovens, Farm to Fork, and, of course, a delicious Grainary where you can find delicious house baked pastries and desserts. Often, students are treated to special cuisine days, where the fare turns to outdoor Mongolian barbeque, Mexican- or South America-themed menus, or local, organic dishes. 
---
The Spot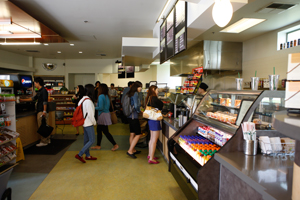 The Spot is conveniently located on the third floor of the Campus Center next to the Student Lounge.
An alternative dining spot and Whittier tradition since the 1940s, The Spot offers a coffee-shop menu, featuring freshly grilled foods, authentic Mexican foods, made-to-order sandwiches, salads, and daily specials, in addition to an espresso bar and fresh fruit Smoothie Bar.