Families & Guests
On
9 May, 2013
By
admin
0 Comments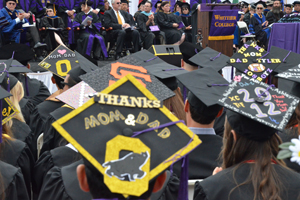 Commencement promises to be a positive and memorable experience for you and your graduating student. The links provided here with assist with planning your day.
Accommodations for Disabled Guests
Reserved parking for guests who have impaired mobility will be available in the lot(s) adjacent to the Memorial Stadium (stadium lot and athletic center lot). In addition, seating will be available on the track floor near the graduates for those guests in wheelchairs, and reserved seating in the first few rows of the stadium for guests with impaired mobility.
If you or your guest will need parking and/or seating accommodations, please contact Stephanie Hernandez in the Human Resources department at 562.907.5018 or shernan4@whittier.edu by Friday, May 1, 2015.
Be advised that guests requesting reserve seating in the handicap/impaired mobility section may only have one additional person sit with them and one parking spot. Requests for handicap/impaired mobility parking spots must be reported to Stephanie Hernandez by Friday, May 1, 2015 to allow time for a Reserved Parking Pass to be mailed to you.
Memorabilia Sales & Florist
The Whittier College Bookstore will have memorabilia available for sale at Memorial Baseball Field the day of Commencement.
Heavenly Blooms florist will also be on site selling flower bouquets and leis. For more information, call 562.698.4075.
Ceremony Photography
GradImages will be taking photographs of each graduate receiving his or her diploma at Commencement. Proofs will be e-mailed to all graduates who supplied e-mail addresses; otherwise, proofs will be mailed to home addresses.
Students should visit gradimages.com/Preregistration to preregister. There, they can enter their email and up to 6 emails of loved ones who would like to share in their accomplishments by viewing and ordering photos. By submitting this information early, students can rest assured that photo samples will be quickly and conveniently provided to them and all the others registered as soon as they are available after the event.
After graduation, photos can be ordered online at gradimages.com or by calling 800.261.2576.
Due to the lay-out of the facilities, it will not be possible for friends and family members to leave their seats during the graduation ceremony. Anyone attempting to leave their seats and stand in the aisles will be restrained from doing so.