What We Do
On
29 Apr, 2013
By
Anonymous (not verified)
0 Comments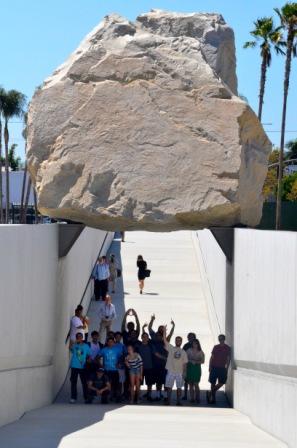 Cornerstone to Whittier College's Center for Collaboration with the Arts is the Los Angeles Integrated Arts Program (LAIAP). LAIAP offers an intensive curriculum centered around contemporary, future-oriented ideas. It features team-taught courses, directed fieldwork, collaborative projects, and timely immersion in and exposure to the current arts industry. In close collaboration with leading arts venues and working professionals in the field, Whittier College's LAIAP delivers students a comprehensive interdisciplinary perspective on the integral role and impact of arts on society.
Established with support from the W.M. Keck Foundation and Andrew W. Mellon Foundation, LAIAP is offered during the summer and spring terms.
This May Term 2014 (May 27 - June 20), INTD 303: Ways of Knowing: Exploring the City of Angels will be offered. INTD 303 has no pre-requisites and is open to all students. Upon completion, returning students will earn six credits and fulfill CON 1 and CUL 6 requirements. New students will earn six credits and fulfill the CUL 6 requirement. For more information, click here.
A full-semester program will be offered in Spring Semester 2015 (January 29 - May 11). Featuring a residency component, professional networking workshops, and an arts leadership course, this program will be offered a "study-away" semester for students enrolled at colleges and universities around the world, as well as to currently enrolled Whittier students. For more information, click here.