Faculty Led Programs
On
4 May, 2013
By
rrafferty
0 Comments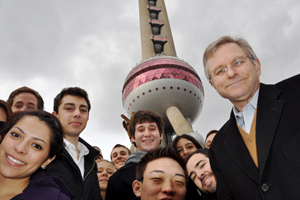 Faculty-led study abroad courses are just like any other courses at Whittier College, except that classes are held all over the world.
Important reasons to consider a faculty-led course:
Students travel with Whittier faculty and earn Whittier credit.
Whittier offers a variety of courses, which means students can fulfill major and minor requirements, as well as liberal education requirements.
Students who cannot give up the time to participate in a semester or year-long program appreciate the opportunity to have a study abroad experience during the shorter JanTerm or MayTerm.
Students may participate in one or several faculty-led courses during a traditional four-year undergraduate program; or, students can complete a faculty-led course in addition to a longer semester program abroad.
The tuition fee is low, and Whittier student participants may qualify for a tuition waiver to cover this cost. Review the Faculty-Led Tuition Waiver Policy. 
To learn more or to apply, visit the Poet World Portal today!