Study Abroad
On
26 Apr, 2013
By
Anonymous (not verified)
0 Comments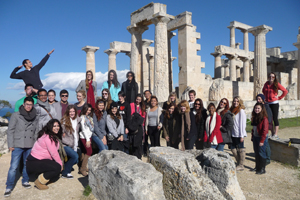 Travel throughout multiple countries, cultural exchange, foreign language immersion, unique academic adventures - all of these are hallmarks of the international study experience. In keeping with its mission to prepare students for a global society and evolving workplace, Whittier College has sponsored study abroad opportunities, placing qualified students in locations throughout five continents (or at sea) for a semester, year, summer, or January Interim session of international, academic experience.
The history department strongly encourages students to study abroad. Over the past ten years, over fifty history majors have studied at universities on nearly every continent, including Oxford and Royal Holloway universities in England, Beijing University in China, University of Western Cape in South Africa, and the College de France in Paris.
Selected study abroad programs can help students:
achieve proficiency in a second language
meet major or minor requirements
complete general education courses
take courses not available at Whittier
Recent program graduates have also completed international internships, conducted and published professional research, and been offered foreign graduate school and work opportunities.
For a comprehensive list of study abroad programs for history students, visit the Poet World Portal.
Students of all disciplines can also participate in any of Whittier's faculty-led study abroad courses, which take place during the shorter JanTerm and MayTerm and can fulfill major, minor, and liberal education requirements. Learn more about Whittier's Featured Faculty-Led Programs.
For further exploration of Whittier's study abroad programs or to learn more about the application process and standard requirements, visit the International Programs website.