Support
On
24 Apr, 2013
By
Anonymous (not verified)
0 Comments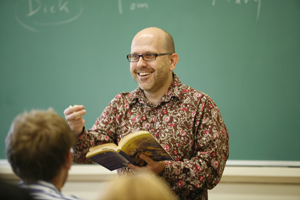 The continued success of the Department of English Language and Literature depends on the generosity of our donors. 
Your gift – of time, money, or resources - allows us to continue to provide students with the best opportunities to learn and develop, provide a quality education, and attract and retain top scholars and students.
Ways to Support
Gifts to the Department
Whittier College has established two funds for the Department of English in support of its activities and student writing prizes. Interested individuals have the option to designate their gift to one or both of the following funds:
Poets for Poets Fund: supports English Department activities such as student publications and enrichment opportunities, faculty support, and resources that promote teaching innovation. 
Student Prizes in Literature Fund: supports annual writing prizes awarded at honors convocation.
 
For information on how to donate, contact Steve Delgado, Vice President for Advancement, at 562.907.4217 or sdelgado@whittier.edu.
Gifts to the Whittier Fund
Tuition does not cover the entire cost of educating a student. Unrestricted gifts to the Whittier Fund bridge the funding gap and help provide exceptional opportunities that all students enjoy, including access to a great education, internships, job counseling, small class sizes, and leadership and team building opportunities. Unrestricted gifts provide the most flexibility and allow Whittier to use your gift where the need is greatest.
Directed gifts to the Whittier Fund may be designated for a particular purpose within the College's identified institutional needs, including student service and academic program support, student scholarships, faculty recruitment and retention, library resources and acquisitions, and athletics.
However you choose to support the Whittier Fund, be assured that your gift will provide the crucial resources necessary to sustain excellence at the College. Make a donation to the Whittier Fund. Contributions are fully tax-deductible.
Volunteer Opportunities
Please connect to the appropriate contact to show your support in any of the areas below.
Offer an internship or promote job opportunities within your organization to current students. Contact: poetpros@whittier.edu.
Help to provide career advising and services to current students and recent graduates. Contact: poetpros@whittier.edu.