Internships, Preceptorships & Fellowships
On
24 Apr, 2013
By
Anonymous (not verified)
0 Comments
Internships
At Whittier College, education goes beyond the confines of campus. Here, we know that classroom learning needs to be practically applied both for career training as well as civic involvement, and so getting out into the community is crucial for intellectual and character growth.
Whittier's location in Southern California, close to Los Angeles and Orange County, gives students internship opportunities that will help them gain crucial business training and experience valuable for their post-Whittier lives. Industries ranging from entertainment to finance, aerospace to bioengineering, and more all call Southern California home.
Civic involvement is immensely important at Whittier College as well. Our Center for Engagement with Communities, brings together faculty, students, and staff from all sectors of the College to partner with non-profit organizations and local government in Whittier and the neighboring communities.
Learn more about the internship process at the Center for Career Planning & Internships. And to locate volunteer opportunities in and around Whittier College, please visit the Center for Engagement with Communities.
Preceptorships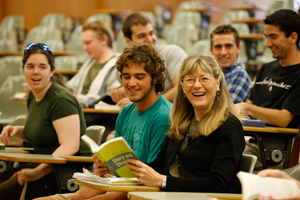 The English Department's preceptorships are designed for advanced English majors who are interested in teaching, whether at the secondary level or in higher education. They can be initiated either by the student or by invitation from a faculty member, and normally are offered only in lower division English courses: English 110, English 120, and English 220-221. Preceptorships are also available in English 222 (Literature of the Bible) and English 223 (Greek and Roman Literature), but only to students who have taken the course.
Preceptors attend class regularly, read for each class session, and model appropriate student discussion. They also hold office hours to assist students in understanding the material and in writing their papers for the course. Sometimes they offer, or assist with, review sessions in advance of major exams. Most preceptors meet regularly with the professor to talk about the course, and sometimes have a role in planning the syllabus. Most also read and comment on student work, although the professor is responsible for assigning the final grade. Finally, most preceptors plan and conduct at least one class session with the professor present, and some take over the classroom in the very rare case of a professor's absence.
In short, a preceptorship serves as a kind of internship (or at least an apprenticeship) in teaching literature.  It is available for credit and can be listed on the student's curriculum vitae. Contact the department for more information.
Fellowships
Whittier's Director of Fellowships along with faculty and staff advisors is committed to helping students launch their search for internal, national, and international fellowships that fit their intellectual, professional, and personal goals.
Each year, students compete for and win impressive scholarship and fellowship awards. To date, Whittier College has had four Rhodes Scholars, two Thomas R. Pickering Foreign Affairs Fellows, several Fulbright awardees, and a number of finalists for prestigious national and international opportunities.
Winning a fellowship, scholarship, or grant not only adds prestige to a student's resume, but it also provides financial support during college or post-graduate studies.
To find fellowships that match your interests, please visit the Fellowships website.