Research & Fieldwork
On
25 Apr, 2013
By
Anonymous (not verified)
0 Comments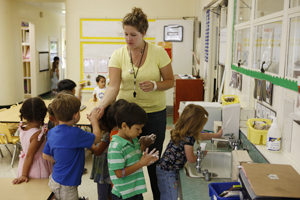 At Whittier College, our student body works in close, active collaboration with professors who are leaders in their fields. Together, this team of learners conducts research projects that push the boundaries of knowledge and inquiry.
For example, select students support faculty members with their professional academic investigations. At other times, it is the faculty which assists the efforts of students in pursuing groundbreaking new research. As a result of these experiences, and with confidence in their own abilities, Whittier students regularly go on to participate in conferences (such as the Southern California Conference on Undergraduate Research) and other academic conclaves across the nation.
Students further interact with faculty members in programs that are part of the College's Centers of Distinction and take place at Garrett and Hartley Faculty Masters' Houses, on-campus residences where professors live for a multi-year term and coordinate and host an array of educational and social activities.
While students at large universities struggle merely to gain face-time with professors, here at Whittier, students interact with the faculty personally and on a daily basis.
---
Academics in Action

LESSONS IN URBAN EDUCATION
​Professor and Students Work To Close the Achievement Gaps Between English Language Learners and Their Peers
The sights at Philadelphia House can't help but resurface your inner child. Colorful bookmarks created by the small hands of elementary students, homework "sticky notes", an small stuffed mouse toy that peeks out from a desk hole.  It is the perfect setting to welcome students who are in pursuit of becoming the next leaders of education.
Professor Ivannia Soto-Hinman helps get them there. Read more.
MAKING AN IMPACT
Jumpstart Brings Whittier Students Opportunities to Work With Children of Diverse Communities
Flashcards, alphabet letters, paintings, and smiles light up the classrooms as instructor and children engage in learning.  The class leaders – Whittier undergraduates who are considering a career as in education -- proudly wear Jumpstart on their shirts.  For these would-be teachers, also known as Jumpstart Corp members, this program provides a unique experience to impact children by helping them to improve language and learning skills. Read more.