Research & Fieldwork
On
24 Apr, 2013
By
Anonymous (not verified)
0 Comments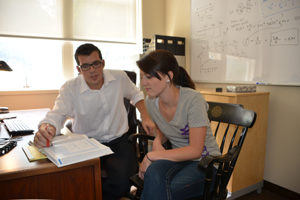 At Whittier College, our student body works in close, active collaboration with professors who are leaders in their fields. Together, this team of learners conducts research projects that push the boundaries of knowledge and inquiry.
For example, select students support faculty members with their professional academic investigations. At other times, it is the faculty which assists the efforts of students in pursuing groundbreaking new research. As a result of these experiences, and with confidence in their own abilities, Whittier students regularly go on to participate in conferences (such as the Southern California Conference on Undergraduate Research) and other academic conclaves across the nation.
Students further interact with faculty members in programs that are part of the College's Centers of Distinction and take place at Garrett and Hartley Faculty Masters' Houses, on-campus residences where professors live for a multi-year term and coordinate and host an array of educational and social activities.
While students at large universities struggle merely to gain face-time with professors, here at Whittier, students interact with the faculty personally and on a daily basis. 
---
Academics in Action
CONTEXTUALIZING CHINA
Business Course Brings U.S.-China
Relations to Light
Four decades after President Richard M. Nixon made his historic trip to China, 16 Whittier College students spent 10 days in China as part of their Jan Term class, following in his footsteps, and learning first-hand about the important role that this country will have in the global context. Along the way, they met with the scholars, diplomats, and executives at some of the top companies in the world. Read more.