Women On Top: Alumna's Global Business Summit Engages Students
On
27 Nov, 2013
By
mramos1
0 Comments
Wednesday, November 27, 2013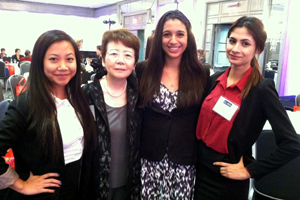 Attending panel discussions with heady titles such as "New Realities of 21st Century Leadership," "Lessons Learned from a Social Entrepreneur," and "The Link Between Inclusiveness and Innovation," a trio of Whittier business majors emerged from a Los Angeles symposium with a wealth of strategic knowledge about the workforce they plan to enter—and lead—post-graduation.
Guests of Hiroko Tatebe '73, founder of the successful Global Organization for Leadership and Diversity (GOLD) that produces the symposium, the three students had an unparalleled opportunity to hear from predominantly top women executives about the kinds of challenges they face to stay current in the market, keep labor motivated and productivity on target, bridge culture and geography, and keep driving innovation to edge out competitors. Among the speakers were Hon. Aida M. Alvarez, the first Hispanic woman to serve in a U.S. Presidential Cabinet post; Tracy C. Doi, chief financial officer for Toyota Motor Sales, U.S.A., Inc.; and Deborah L. DeHaas, vice chairman for Deloitte LLP; among others.
An annual event since 2007, the symposium is the brainchild of Tatebe and furthers the mission of her organization, which is to "foster professional development and leadership growth for current and future women leaders by providing educational, inspirational and motivational programs that build bridges across the Pacific." Tatebe focuses her GOLD operations and program outreach primarily in Japan and the United States, and her own extensive professional background includes corporate management in finance, investment, domestic and international operations, productdevelopment, compliance, and information technology.
The 2013 GOLD symposium, "Reflect, Renew, and Reinvent: Driving Innovation through Inclusion," brought together executive leaders from a range of Fortune 500 companies such as Johnson & Johnson, Mattel, Inc., Cisco, as well as several other global organizations and companies to share experiences and best practices, as well as to discuss solutions to leverage the talents of a diverse workforce to drive innovation.
"To succeed in today's global environment, companies must embrace inclusive leadership that builds collaborative relationships with employees,customers, and society," says Tatebe. "The global economic crisis has impacted the way organizations run their businesses and innovate. To unleash the full potential of diversity to succeed in business in the 21st century, organizations must create a culture of inclusion where people of all backgrounds are empowered to drive innovation."
And such will be the expected course now for these three future industry leaders--Aurora Gomez '14, Cassandra Ronquillo '14, and Khanh Tran '14—the benefactors of this inspiring and motivational experience.