Poet Council
On
12 May, 2013
By
admin
0 Comments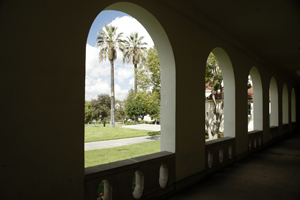 Inaugurated in fall 2006, the Poet Council is a small, presidential advisory group, formed to tap into fresh and thoughtful perspectives on opportunities and challenges facing Whittier College. Select alumni and others close to the College who have successfully applied their educations to a variety of endeavors are invited by the president to participate. Their main task is to offer their best reasoning, creativity, and thoughtful commentary.
The Council meets on campus twice a year, once in the fall and again in the spring. Appointments to the Poet Council are for two years. During the gatherings, Councilors meet with the president, relevant senior administrators, and others for a discussion and brainstorming session on a single topic of strategic significance to the College. Past topics have included Image and Identity, Alumni Relations, and Strategic Enrollment.
As a presidential initiative, the Poet Council receives administrative support from the Executive Assistant to the President.
Contact
Kristin Wiberg
Executive Assistant to the President
562.907.4885
kwiberg@whittier.edu
Poets Council Roster
Janet Birenbaum P'15 (2014)
Attorney
Law Office of Janet W. Forsythe
San Francisco, CA
Kevin Cosens P'15 (2015)
CEO
RF Surgical Systems, Inc. 
Bellevue, WA
Raymond "Buck" Ferguson '67 (2014)
Part Owner
Seattle Mariners
Seattle, WA 
Gerald Forster '87 (2015)
Vice President of IT
Evolution Hospitality
Diamond Bar, CA
Barbara Groce (Ondrasik) '57 (2015)
La Jolla, CA
Harriet Harris (2014)
Vice President 
Harris Taylor Management
Newport Coast, CA
Elizabeth Kay-Im '89 (2015)
Deputy Division Manager
Mission Systems & Operations Division
San Marino, CA
Jascha Kaykas-Wolff '98 (2014)
Chief Marketing Officer
Mindjet
Belvedere, CA
Geoffrey Gamble Kerr (2015)
Vice President and Chief of Staff to the CMO
SAP
Palo Alto, CA
John McCarthy '77 (2015)
Physician 
Whittier, CA
Janet Murtagh '65 (2014)
President 
ComponentDesign Northwest, Inc. 
Portland, OR
Kirk Novak '79 (2014)
Merichem Company
The Woodlands, TX
William Pate '65 (2014)
Superior Court Judge
JAMS
Coronado, CA
Bharat P. Patel P'15 (2014)
Owner
Castle Inn Inc.
Orange, CA
Stephen Penn '85 (2015)
Managing Director
CBRE
Mercer Island, WA
Amy L.S. Pulver '72 (2014)
Policy Analyst
Centers for Disease Control and Prevention
Washington, D.C. 
Christopher Somogyi P'65 (2015)
CEO
Etaphase, Inc.
Seattle, WA
Catherine (Pearce) Standiford '81 (2015)
Partner
Management Partners, Inc.
Cypress, CA
Tim B. Westphal '95 (2014)
Executive Vice President
Bay Alarm Company
Orinda, CA
Travis R. Wiley '11 (2014)
Orinda, CA