Students Help in Border Clean-up
Wednesday, October 23, 2013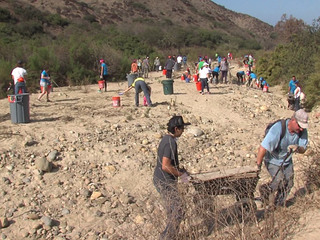 Five dozen Whittier students traveled to the U.S./Mexico border last week to join a group of nearly 300 volunteers in picking up trash at Border Field State Park.
The students were led by professors from various departments including Julie Collins-Dogrul, sociology; Jose Orozco, history; David Bourgaize, biology; Mary Perez, social work; and Peter Reich, Whittier Law School.
After a morning of clearing debris, the students spent the afternoon hearing from a speaker at the Tijuana River Estuary Interpretive Center about cross-border environmental problems that afflict the river, including trash buildup and silting. Students also learned about cooperative bi-national solutions being carried out to address these problems.
The trip was sponsored by the sociology, anthropology, social work, biology, and history departments, as well as the First Year Writing program, Hartley House, and LEAP. In addition, a grant from the National Endowment for the Humanities provided an honorarium to the guest speaker from the Interpretive Center.