Class of 2017 Arrives at Whittier College
Monday, September 2, 2013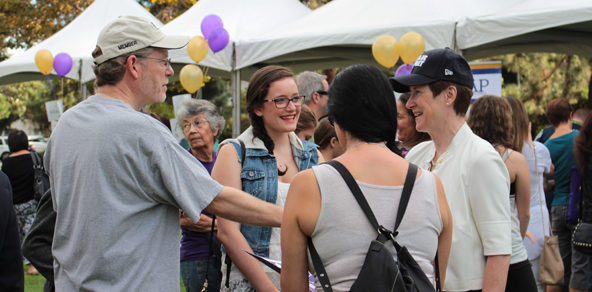 They're here. 
The Class of 2017 descended on the Poet campus Sunday, marking the start of their undergraduate stay at Whittier College.
Hauling luggage, boxes, mini-fridges, economy-size boxes of goldfish crackers, and other must-have items, residential students and their families – with the help of 100 volunteer society members – did not let the mid-90s heat stop them from transforming Stauffer and Johnson residence halls into students' new home away from home.
Meanwhile, at the North Lawn outside Wardman Library, commuter students had their turn at check-in, rubbing elbows with Whittier staff and faculty who were on hand and making rounds at booths that provided students with everything from Orientation t-shirts to their official College IDs.
At noon, the Class of 2017 regrouped and along with Whittier's new transfer students ventured off for the start of Orientation, three days of get-to-know-Whittier activities that culminate on the first day of class on September 4.
The afternoon included a series of information sessions, opportunities to meet and mingle with First Year Program mentees, ice-breaker activities in the Graham Athletics Center, and an interactive game show in which students matched wits against College mascot, Johnny Poet.
All in all, it was apparent that students were excited about arriving on campus and looked forward to the days ahead.
---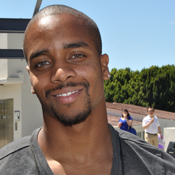 Erek Brown '15​
San Dimas, CA
Transfer student; sociology major
Professional aspirations: law enforcement
"I have friends at Whittier and have been on campus and I like the environment. I'm looking forward to meeting new people and maybe making life-long friends."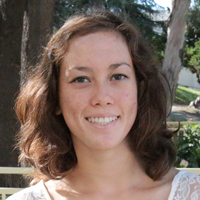 Irene Morrow '17
Palm Desert, CA
First-year student; kinesiology major
"I look forward to being more independent and having a lot more freedom. I'd like to join the yearbook staff. I'll also be on the swim team."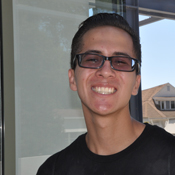 Robert Casas '17
Pico Rivera, CA
First-year student; social work major
"I'm looking forward to meeting new people and excited to get started."
Professional aspirations: "I want to give back to the community and work with people who have special needs."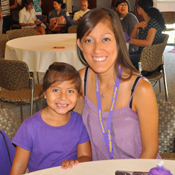 Idalia Guadalupe Gaitan '15
La Habra and Whittier, CA
Transfer student; social work major 
"I'm proud to say that I am a first-generation college student and the first person in my family to graduate high school. I am looking forward to getting to know people from different cultures, backgrounds, and opinions."
---
As evening descended, students participated in their first Poet rite of passage: New Student Convocation, which includes the College's symbolic "Sharing the Light of Learning" ceremony. Looking out at the crowd, President Sharon Herzberger celebrated the 126th class to matriculate at Whittier and spoke about the College's outstanding faculty, leadership development, and Quaker values.
"Newest Poets, on this beautiful night, I suspect that you are not yet pondering your graduation. You are probably thinking about the next few hours and about tomorrow and about Wednesday when your academic adventure truly begins.  But your family, your faculty, and all who are gathered here with you tonight know that your time on this campus will pass quickly. We know that there is a world that awaits, eager to benefit from the education you will receive here. You have chosen well in choosing Whittier College."
Take an inside look at the first day of Orientation in this Flickr slideshow: http://bit.ly/18lYhr3.