Helping Hands Day
On
7 May, 2013
By
rrafferty
0 Comments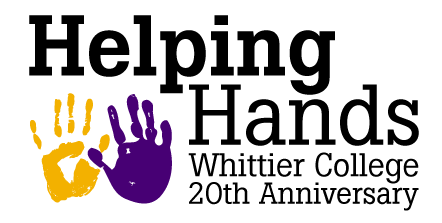 From gardening and painting projects to reading to the elderly to working with the homeless, Helping Hands Day has hundreds of Whittier College students, staff, faculty, and alumni rise early on a Saturday morning for a day of service projects within the community.
Since its beginnings in 1994, the list of Helping Hands Day service activities and partner organizations has grown to include local city agencies, senior centers, shelters, and other organizations in need.
An integral part of First Year Experience program, Helping Hands Day encourages all first-year students to participate as a way to both instill a foundation of giving back to the community and enhance student understanding of the College's strong history and mission of service. 
Helping Hands Day will occur on Saturday, September 27, 2014. We invite you to share your experiences on social media using #WCHelpingHands.
Thus far, the following partners are already signed up to participate in the day's events:
Bolsa Chica
Capitalizing in Capabilities, Inc.
Cerritos Regional Park
H.O.W. House
Hispanic Outreach Task Force (H.O.T.)
Lydia Jackson Elementary
St. Andrews Lutheran Church
Wardman House
Whittier Parks and Rec
---
Links
To become a volunteer at Helping Hands Day (Whittier students, staff and faculty only), click here. 
To learn more about the sites where volunteer activities will be taking place, click here.
To be a Helping Hands Day community partner, click here. 
---
Photo Gallery