Introducing Whittier's Class of 2017
Hailing from 21 states across the U.S. and 19 countries around the globe, the 450 newest members of the Poet Family will be arriving to Whittier on September 1 for their official welcome to campus at Orientation. 
Here, we take a closer look at the College's incoming class and introduce six of its standout students. With plans to major in a variety of studies - art, creative writing, business, child development - and a diversity of experiences under their belt, these students reflect the eager and vibrant personalities due to arrive this fall.
Without further ado - Whittier, meet your Class of 2017.   
-by Mauricio Escobar '14 and Veronica Galbreath M.A. '12
---

A Closer Look At Six New Poets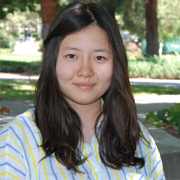 From South Korea to Whittier
Having studied the past six years in Singapore, Esther Song chose Whittier College for its small campus and proximity to bustling Los Angeles. Originally from South Korea, Song volunteered with Save the Children and served as a translator in the Office of Immigration in Seoul. Song was drawn to Whittier College for its diverse academic programs, social environment, and service opportunities. She plans to major in Psychology but is also interested in the Whittier Scholars Program and exploring various subject areas and students clubs and organizations that best match for her future plans.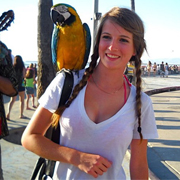 The Equestrian Poet
A native of sunny San Diego, Breonna Hinkes has been participating in horseback-riding competitions since she was 11-years-old. For the past four years, Hinkes has owned her own horse and looks forward to riding in more competitions as part of Whittier's Equestrian Club. Hinkes was attracted to Whittier for its small size and friendly and encouraging atmosphere and plans to major in business administration with a focus in marketing. "I like knowing about new ideas and communicating with others to bring their thoughts together into one, but you need to be able to sell if you want any success," she said.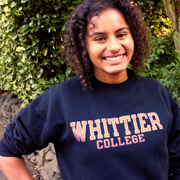 Eager for New Adventures
Sofie Wilson, from Seattle, Washington, was struck by how alive and diverse - "not just racially, but socially, financially, culturally, and religiously" - the Whittier campus felt when she first came to visit. Wilson is excited to study creative writing, visual arts, and film studies, as well as getting involved in extracurricular activities like intramural sports and possibly a Society. "My future as a Whittier Poet is colorful with opportunity and adventure," she said. "Whittier feels like a place where I can be myself. A place where I can be who I am, and thrive as a student, as a person, and as a leader."
Pre-Med Hopeful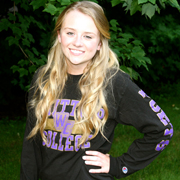 Jacqueline Komornicka was captain of the varsity volleyball team and a member of the varsity tennis team at her small prep high school in Connecticut. Looking ahead to her time at Whittier College, Komornicka is prepared and excited for the athletic opportunities Whittier will provide her, in addition to the academic support she will need as a child development major and pre-med student. "It was really important for me to choose a college that lets me continue to enjoy small class sizes, good relationships with my teachers, and, essentially, knowing almost everyone in my class," she said. "I think Whittier will provide me with just what I was looking for."
Poet at Bat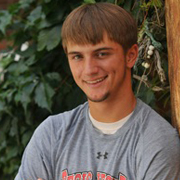 This past summer, JP Fasone, from Aurora, Colorado, has been working and playing for the Cheyenne Grizzlies, a collegiate summer baseball team in Cheyenne, Wyoming. This fall, Fasone will be playing ball with the Poets and majoring in child development. In addition to the opportunity of playing for an outstanding baseball program, Fasone chose Whittier because of its small size, which will allow him to get to know his professors and succeed academically. "A big draw to Whittier was its education program," said Fasone. "It seemed to fit exactly what I was looking for. I am passionate about education and cultivating that passion into a career that allows me to connect with kids."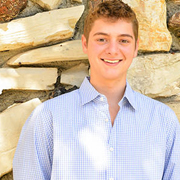 World Traveler
Having been to 20 different countries on all six of the inhabited continents, Jack Morey, of Milton, Massachusetts, is no stranger to traveling. Morey was drawn to Whittier College for many reasons, including its small, intimate campus and its location near Los Angeles. However, Morey is most excited for the opportunities offered during JanTerm. "I plan on traveling during this time, but there is no limit to what one could do," he said. "Coming from the East Coast there are many things I am looking forward to, and Whittier is the perfect place for me." Morey plans to double major in art history and Spanish and one day work at LACMA.
---
Related article: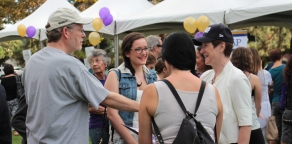 The Class of 2017 kicks off its stay at Whittier with Orientation activities.