Poet Men's Water Polo Competes for National Championship
Tuesday, December 3, 2013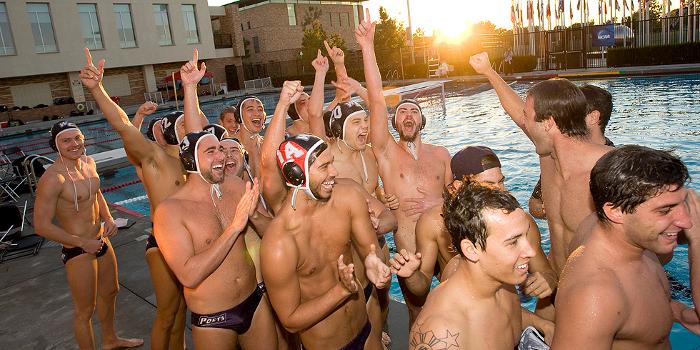 The Whittier College men's water polo team will travel to Palo Alto to compete against Stanford University for the national championship on Thursday, December 5.
"We'll represent our conference and our college and we'll do our best," said Head Coach Justin Pudwill in a recent interview with the Whittier Daily News. "We're the only Division III team. This is a unique and exciting opportunity."
As the Southern California Intercollegiate Athletic Conference (SCIAC) champion, and without a Division III national tournament to play in, Whittier earned one of six bids to the NCAA Division I championships, which will be held at Stanford's Avery Aquatic Center.
Last week, the Poet team was named the 2013 SCIAC Champion after defeating the Stags of Claremont-M-S, 10-9, in sudden death overtime capping off an impressive championship showing.
"This is a really fun team to coach; our group is very balanced," said Pudwill.
This marks the first SCIAC Championship for the Purple & Gold since 2004 and the first under the Pudwill's tutelage.
Team member and attacker Kyle Catino '15 adds, "[This win] showed that we were really deep as a team and have solid players all around."
The Poets finished the regular season No. 1 in the Collegiate Water Polo Association Division III polls for the third time in the program's history.
Read more on wcpoets.com.