Research & Fieldwork
On
26 Apr, 2013
By
Anonymous (not verified)
0 Comments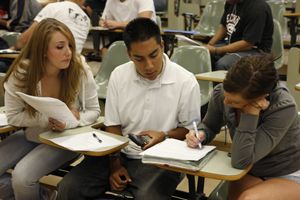 At Whittier College, our student body works in close, active collaboration with professors who are leaders in their fields. Together, this team of learners conducts research projects that push the boundaries of knowledge and inquiry.
For example, select students support faculty members with their professional academic investigations. At other times, it is the faculty which assists the efforts of students in pursuing groundbreaking new research. As a result of these experiences, and with confidence in their own abilities, Whittier students regularly go on to participate in conferences (such as the Southern California Conference on Undergraduate Research) and other academic conclaves across the nation.
Students further interact with faculty members in programs that are part of the College's Centers of Distinction and take place at Garrett and Hartley Faculty Masters' Houses, on-campus residences where professors live for a multi-year term and coordinate and host an array of educational and social activities.
While students at large universities struggle merely to gain face-time with professors, here at Whittier, students interact with the faculty personally and on a daily basis.
---
Academics in Action
SCIENTIFIC DEVELOPMENT
Whittier College Awards Grants
to Promote Science and Math Education 
It is a truism that research opportunities in science and math at the undergraduate level have the power to highly motivate students—and open doors to future career paths.
Simply take a look at the experience of a few of our recent graduates.
Having made the decision to pursue a major in biochemistry, Kristina Little '12 connected in her sophomore year with chemistry professor Ralph Isovitch, who offered her the opportunity to join his student research team exploring "synthesis and luminescence characterization of a novel stilbene." Read more.
MATHEMATICAL MODELING OF
A ZOMBIE OUTBREAK
Q&A With Mellon Mays
Undergrad Fellow Dara Belarmino
The idea started junior year when I saw a show on Zombies while I was also doing a math modeling course, and I realized I could model a Zombie epidemic. Math modeling is taking what we know about systems and equations, and applying math to solving real world actual situations. So I talked to my mentor, Professor Lutgen, and he decided we could do this for my Mellon Mays Fellowship, and it has since become my senior project as well. For the project, I study different Zombie situations—like a basic Zombie attack, or one where the virus incubates for a while, or another where the infected population is quarantined, etc. I also looked at the stability of the system and whether I could find a case where Zombies and humans can live together. Read more.