Wellness Coalition
On
9 May, 2013
By
admin
0 Comments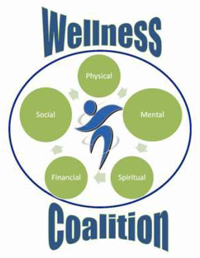 The Wellness Coalition, comprised of faculty, staff, and students, was founded to increase the emphasis on wellness awareness and education on the Whittier College campus.
This supportive environment is met through a variety of programs, events, and services, such as the Walk to Wellness semester competitions and "Next InSTALLment" wellness letter.
Faculty, staff, and student participation in the Coalition is encouraged and welcomed!  Download an application below, or for more information, contact Paul Carbajal at pcarbajal@ whittier.edu or 562.907.4239.
Follow the Wellness Coalition on Facebook and Twitter.
Next InSTALLment Wellness Letter
From dealing with insomnia to preparing for summertime travel, Next InSTALLment circulates among the Whittier community with helpful information on issues influencing overall health and wellness. Past issues have covered everything from identifying characteristics of potential alcohol abuse to seeking healthy relationships, coping with anxiety, and learning about health crises and pandemics throughout the world. Next InSTALLment addresses issues that affect health, big or small.
To Sleep Perchance to Dream (November 2013)
Are YOU a Problem Drinker? (October 2013)
Breast Cancer: Early Detection & Ways to Lower Your Risk (October 2013)
National Depression and Mental Health Screening Month (October 2013)
Homesickness: Is Home Where Your Heart Is? (October 2013)
Asthma: A Very Serious But Easily Manageable Disease (October 2013)
RAINN Day: Sexual Assault and Rape Awareness (September 2013)