Whittier College Students Excel in Academics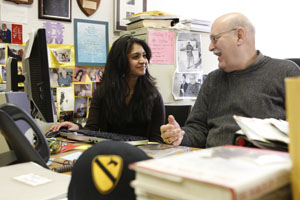 Whittier College named 199 undergraduate students to the Spring 2013 Dean's List.
Students' academic accomplishments have been noted in hometown newspapers across the country including:  Bend Bulletin (Oregon), Nevada Appeal, Navato Patch, The Californian, North Hawai'i News, St. Agustine Record (Florida), Beverly Hills Courier, and York Dispatch, among others.
Undergraduate student are awarded Dean's List honors if he or she earns a 3.70 grade point average (GPA) while completing a full-time course load (12 units) in the fall and spring terms.
Alyssa Acosta

Alyssa Adame

Kellen Aguilar

Anahisa Aguirre

Ameena Ahmed

Brianne Ahn

Anthony Akkawi

Jasper Albright

Steph Alcala

Hollie Almeria

Aiko Araki

Matthew Aranda

Jeanette Arreola

Kaitlyn Baldwin

Erin Bartholomew

Grace Battista

Lily Baxter

Edwin Bennett

Sarah Berjaoui

Supriya Bhupathy

Rachel Bickert

Derek Blankenship

Amanda Blazey

Jordan Boeder

Justine Budke

Nicole Buehlmaier

Julianne Bull

Tyler Butler

Alyssa Canchola

Karly Carazo

Belinda Carrillo

Lauren Chamberlain

Kristen Chikami

Sofie Clausen

Erica Clifford

Anna Cornejo

Ian Cromwell

Annelissa Cuenca

Sara Czworniak

Max Dahut

Filip Dajkovich

Karri Davis

Maredith Davis

Miriam De Dios

Joseph De La Torre

Ellie Demis

Chloe Diaz

Jafet Diego

Elizabeth Dollmeyer

Hazel Duran

Sarah Elliott

Jonathan Elvins

Brianna Esparza

Victoria Esquer

Erin Eulberg

Joe Evans

Samuel Farmer

Chloe Fisher

Alex Flores

Catherine Flores

Craig Frantz

Emily Frazier

Laura Freeze

Damarys Garcia

Melissa Gaylord Ratsimbazafy

Lauren Gelgur

Viviana Gomez

Mickala Gonzales

Jose Gonzalez

Sarah Gonzalez

Stella Gordon

Bo Gould

Faith Grimes

Mikel Guereca

​Christina Gunning

Yadira Gutierrez

Colleen Guzman

Adrienne Hamada

Ajita Harrison

Kathryn Harrold

Ryan Hart

Brittany Hedderson Moses

Naoki Hemmi

Eric Hinwood

Lauren Ho

Natalie Hole

William Hougan

Diana Hua

Aurora Ilog

Ali Jackman

Katie Jenkins-Moses

Corey Jensen

Courtney Jensen

Andrew Jimenez

Brenda Juarez

Alohi Kaholoaa-Moody

Alexa Kallen

Michelle Kearney

Bryce Keen

Gabriela Khowploum

Bryson Kihara

Michelle Kilpatrick

Haley Kleine

Heidi Koeger

Sarachristine Koffi

Robert Alexander Kondo

Brenda Kramer

Leslie Kuhen

Daniel Kulick

Kelsey Kwong

Crystal Lam

Joe Larrea

Emily Le

Tammy Le

Daniel Lee

Candace LeFlame

Guadalupe Leon

Olivia Likens

Amanda Lindemann

Rosemary Llewellyn

Jonathan Logan

Lindsey Logan

Adam Lubliner

Randy Lukas

Alberto Luna

Truman Lyford

Brooke Lyon

Gudmundur Magnusson

Melissa Manzanares

Joel Marin

Julia Marino

Karla Martinez

Ashling Massoumi

Kara Mavers

Tanya McQueen

Ashley Medina

Samantha Mellano

Alyssa Mendez

Sabrina Mercado

Vicki Mercado

Jessica Miller

Cynthia Montoya

Adriana Moore

Amiya Moretta

Cynthia Montoya

Adriana Moore

Amiya Moretta

​Carolyn Mukai

Katya Murillo

Noor Mustaf

Jessica Nemerovski

Patrick Norton

Mario Obando

Meg Oka

Morgan Oliver

Amber Orozco

Michele Ortega

Lynnea Palazzolo

Michelle Palmerin

John Paniagua

Melanie Peel

John Pellarin

Josh Perese

Marie Perez

Claire Peters

Brian Phung

Chelsea Pomfret

Lainie Popp

Mason Portalski

Samantha Quintanar

Zachary Rager

Gema Ramila

Tiffany Reyes

Jonathan Reynoso

Irma Rivera

ReyAnn Rivera

Angela Rodriguez

Allison Rohrer

Jasmine Romero

Kenia Saldana

Elizabeth Sanchez

Julie Sanchez

Torie Savage

Hayden Schmidt

Christopher Schommer

Chris Sekiguchi

Terrileigh Shepherd

Carlee Shults

Aaron Silva

Jennica Rae Simbol

Shavontae Simpson

Claribel Solorio

Frida Soria

Christine Spellman

Nick Stanton

Margaret Steele

Phoebe Stevens

Aidyn Sturr

Hayley Tama

Alexandra Tamayo

Tully Tampakes

Alexa Tanen

Rachel Tegenkamp

Ashley Terich

David Tong

Ryan Trantum

Rose Trigueiro

Tiffany Tsui

Elizabeth Uribe

Avinash Vakil

Laura Van Druten

Haley Von Schottenstein

Jessica Webster

Tanisha White

Michael Willrich

Meghan Wolf

Kindra Woo

Nicole Yamasaki

Donny Young

Faraz Zaerpoor

Andreina Zepeda

Christine Zwergius