Whittier College Featured in the Princeton Review's "The Best 378 Colleges" - 2014 Edition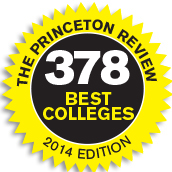 Whittier College is one of the nation's best institutions for undergraduate education, according to The Princeton Review. The College is featured in the education services company's new 2014 edition of its annual college guide, "The Best 378 Colleges."
Only about 15% of America's 2,500 four-year colleges and only four colleges outside the United States are profiled in the book, which is The Princeton Review's flagship college guide. It includes detailed profiles of the colleges with rating scores for all schools in eight categories based on The Princeton Review's surveys of 126,000 students attending the colleges.
"Whittier College offers outstanding academics, which is the primary criteria for our choice of schools for the book," said Robert Franek, Princeton Review's Senior VP / Publisher and author of The Best 378 Colleges.
In its profile on Whittier College, The Princeton Review praises the school for its dedicated faculty, tight-knit community, and the "interconnectedness of all of the liberal arts disciplines." According to the guide, "faculty also help students to 'pursue larger goals in life,' and encourage students 'to take their own initiative in developing their goals and future.'"
Moreover, Whittier students surveyed for the book are quoted extensively for the review. Among their comments about their campus experiences there: "All of your professors will know you by name, and not by number, because you matter to them," and "Everyone respects, as well as embraces, each others' uniqueness."
In a "Survey Says " sidebar in the book's profile on Whittier College, The Princeton Review lists topics that Whittier students surveyed for the book were in most agreement about in their answers to survey questions. The list includes: "great library," "diverse student types on campus, and "popular student publications."
Click here to read more.
The Princeton Review
Founded in 1981, The Princeton Review (www.PrincetonReview.com) is a privately held education services company headquartered in Framingham, MA. The Company has long been a leader in helping students achieve their education and career goals through its test preparation services, tutoring and admissions resources, online courses, and more than 150 print and digital books published by Random House, Inc. The Princeton Review delivers its programs via a network of more than 5,000 teachers and tutors in the U.S.A., Canada, and international franchises. The Company also partners with schools and guidance counselors worldwide to provide students with college readiness, test preparation and career planning services. 
Whittier College
Founded by Quakers in 1887, Whittier College is an independent, four-year college offering a traditional liberal arts program integrated with both professional and pre-professional courses of study. With an emphasis on diversity, community, and curricular innovation, the College's primary mission is to endow students with the education, skills, and values appropriate for global leadership and service. Whittier College is a designated Hispanic-Serving Institution (HSI).
Whittier Law School is the oldest, fully-accredited American Bar Association law school operating in Orange County, California.  Whittier Law School offers a rich, dynamic, and cutting-edge legal education that prepares students for careers in law, business, and public service.