Cutting-Edge Training Device to Energize Whittier Runners Program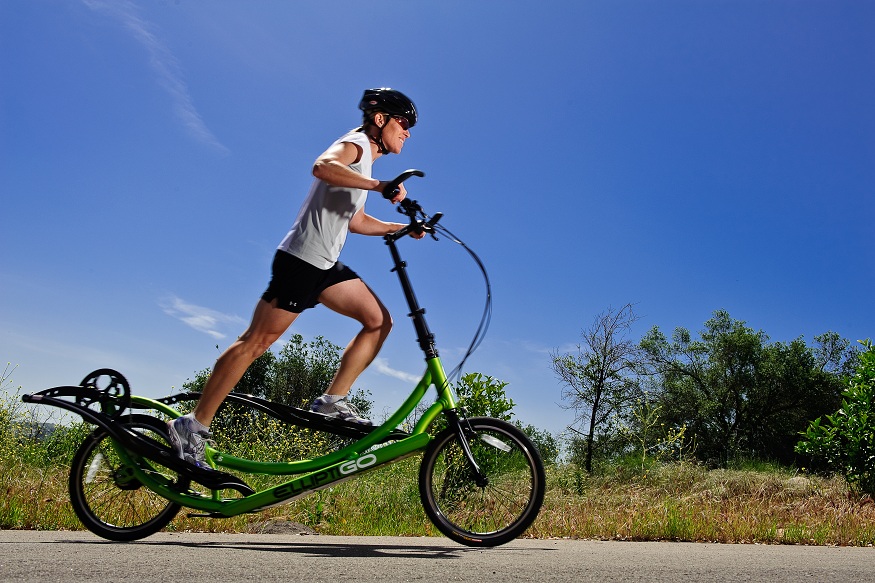 Whittier College athletes will soon be seen around the streets of Whittier utilizing a new and dynamic training tool– the ElliptiGO, a high-intensity, low-impact running device that can be used for rehabilitation and supplemental training. Alumnus Bill Pate '65 and alumnus and former Whittier College runner John Pilkington '78 – avid users of the innovative, outdoor training machine—are donating an ElliptiGo package, worth approximately $6,000, to the College's tra
ck & field and cross country teams.  The package includes two ElliptiGO 8C elliptical bicycles, a set of accessories, and a stationary trainer for indoor use.
In an informal ceremony scheduled for noon on Friday, March 7, at the Aubrey Bonham Track on the Whittier College campus, Pate, father of ElliptiGO founder Bryan Pate, and Pilkington will present the donation to Whittier's head coach for cross country, Greg Phillips, and members of the Poet running teams. At that time, the student-athletes will have their first chance to try out the new machines.
"We're thrilled at the prospect of adding the ElliptiGO to our sports programs in track and cross-country," says Rob Coleman, Whittier's athletic director. "This cutting-edge product is being used by top-performing athletes all over the world right now, and its inclusion into our athletes' training regime will certainly enhance our preparation for competitions and hopefully help us achieve even greater success—both in our division as a team, and individually among our runners."
"In particular, I'm excited to explore its application in terms of injury rehabilitation," says Coach Phillips. "We have a strong roster of athletes in both programs, but invariably we lose runners at different points in the season due to injury. Getting them back on the track in reasonable time, and with no loss of fitness, is always challenging. But we anticipate the ElliptiGO will significantly help in this regard."
Featured in a variety of news programs and magazines including the New York Times, Wall Street Journal, and "Good Morning, America," the ElliptiGO has a growing fanbase spanning multiple continents. In addition to thousands of recreational runners, over 25 universities and well over 100 elite athletes are now integrating the ElliptiGO into their training programs. The device, which resembles the stationary elliptical cardio machines found in most gyms, has been custom-engineered for outdoor cycling, offering multiple levels of resistance for interval and strength training and suitable for a variety of outdoor terrains and conditions.
Poet runners will join world-class athletes—such as 2009 New York City Marathon champion and 2004 Olympic silver medalist Meb Keflezighi, and U.S. middle distance runner, five-time USA Outdoor champion, and 2012 Olympian Alysia Montaño—in using the ElliptiGO to achieve individual athletic goals. Keflezighi, considered by many to be the top U.S. distance runner for the past decade, is the most recent addition to the ElliptiGO Project – a grouping of top athletes focused on using innovative training tools and techniques to improve performance.
Currently, about 90 students participate on the Whittier College cross country and track and field teams; roughly one-quarter of these athletes compete in both sports. Last spring, the Poets' track and field season concluded with two athletes named All-American, one earning the NCAA Division III Championship title in the 400 meter, several individual recognitions in conference, and All-Academic Team honors for the women's program. The 2013 Poets' cross country season concluded with several conference honors for individual achievement on the field, and with  the women's program entering its sixth consecutive year as an NCAA All-Academic Team.
To learn more about Whittier College Athletics, go to www.wcpoets.com
To find out more about the ElliptiGO, visit www.elliptigo.com.
Founded by Quakers in 1887, Whittier College is an independent, four-year college offering a traditional liberal arts program integrated with both professional and pre-professional courses of study. With an emphasis on diversity, community, and curricular innovation, the College's primary mission is to endow students with the education, skills, and values appropriate for global leadership and service. Whittier College is a designated Hispanic-Serving Institution (HSI).
Whittier Law School, which is accredited by the American Bar Association and is a member of the Association of American Law Schools, is located on a separate campus in Orange County.