Whittier College Theatre Department Presents Comedy of Errors
Tuesday, September 24, 2013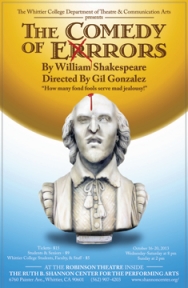 William Shakespeare's Comedy of Errors, will appear on the stage of the Ruth B. Shannon Center for the Performing Arts, 6760 Painter Avenue, Whittier, CA, 90608, Whittier College on October 16- 19 at 8 p.m. and October 20 at 2 p.m. General Admission, $15; Student/Seniors, $9; Whittier College Students/faculty/staff, $5. For additional information, directions, or to purchase tickets, please call (562)907-4203, or visit, www.shannoncenter.org.
Comedy of Errors is one Shakespeare's earliest plays, but the shortest amongst them. It is an old tale of mistaken identity when two sets of identical twin boys are accidentally separated at birth during a shipwreck. After years of questions, one set of twins decide to search for their other halves and thrown into a world of confusion when they visit the city of their long lost brothers and encounter the citizens, including one of the twin's wife. The humor of the play includes classic slapstick comedy, word play, and the use of puns.    
This production features an all student cast and is directed by Gil Gonzalez, associate professor of theatre and communication arts. It is the first department production of the season with two more productions throughout the year.
Solinus, duke of Ephesus
BEN THOMPSON
Executioner/Second Merchant/Pinch, a schoolmaster
COLLIN MCDOWELL
Egeon, a merchant of Syracuse, father to the Antipholi, husband to Emilia
JONATHAN TUPANJANIN
Antipholus of Ephesus, twin brother and son to Egeon and Emilia
MATTHEW ARANDA
Antipholus of Syracuse, twin brother and son to Egeon and Emilia
CHRISTIAN MOHN
Dromio of Ephesus, twin brother and attendant on Antipholus of Ephesus
STELLA GORDON
Dromio of Syracuse, twin brother and attendant on Antipholus of Syracuse
MELANIE HOGLUND
Balthazar, a merchant/An Officer
JOCELYN LOPEZ
Angelo, a goldsmith
ALI WHEELER
Emilia, wife to Egeon, an Abbess of Ephesus
KILEY GIARD
Adriana, wife to Antipholus of Ephesus
KATIE CLENDENING
Luciana, her sister
SCARLETT CAZARES
Luce, servant to Adriana/First Merchant
MABEL NUNEZ VILLAMOR
A Courtezan
LAUREN VAU
Founded by Quakers in 1887, Whittier College is an independent, four-year college offering a traditional liberal arts program integrated with both professional and pre-professional courses of study. With an emphasis on diversity, community, and curricular innovation, the College's primary mission is to endow students with the education, skills, and values appropriate for global leadership and service. Whittier College is a designated Hispanic-Serving Institution (HSI).
Whittier Law School, which is accredited by the American Bar Association and is a member of the Association of American Law Schools, is located on a separate campus in Orange County.