Award Given to Whittier College's Assistant Director of Admissions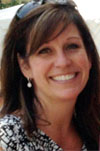 Suzanne McDonald, assistant director of admissions at Whittier College, was bestowed the Murdoch/Finks New Admissions Counselor award at the annual Western Association of College Admissions Counselors (WACAC) Conference.
The Murdoch/Finks award is presented to a college level admission officer who has five or fewer years of experience in the profession and has shown an active interest in WACAC by serving on WACAC committees, volunteering to help with WACAC conference, events, fairs, etc., and a dedication to serving the needs of students.
Since joining Whittier College's staff three years ago, McDonald has participated in WACAC's annual conference planning committee, served as the committee chair for branding and publications, and attended the government relations legislative conference (GRAC), where she worked to bridge the gap between colleges and federal and state governments.
McDonald is currently planning a series of workshops for admission coordinators and directors from local colleges and universities to collaborate and enhance the Visiting Students Program at their respective institutions. Through these efforts, she hopes to provide a better overall experience for all guests to Whittier College, especially out-of-area and out-of-state guests.
"I feel my involvement is bringing more attention to the college community here at Whittier," said McDonald.  "I am passionate about continuing to improve [Whittier's] Visiting Students Program and to create a memorable experience for all guests while on campus. My goal is to increase the number of visitors, so more people can witness everything Whittier has to offer."
WACAC – Western Association of College Admissions Counselors
As an organization of leaders in college admission counseling, WACAC advocates for student rights in the college-selection process; promotes and upholds the National Association for College Admissions Counselors' code of ethics; encourages participation of traditionally underrepresented, underserved populations in postsecondary education and in our profession; offers professional development opportunities that meet our members' needs; and provides access to research and resources that benefit our members. Members of WACAC include secondary, post-secondary and independent counselors working at public, private, and parochial schools, colleges and universities in California and Nevada, as well as others concerned with supporting the transition from high school to college.