Alumna Recognized with Prestigious Business Law Award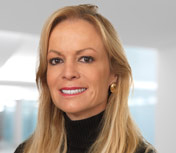 Alumna and Whittier College Trustee Jennifer Fuller '82 has been recognized as "Best in Tax Dispute Resolution" by Euromoney magazine at its 2014 Americas Women in Business Law Awards, which recognizes the best women attorneys in North America.
"I am extremely pleased to have been recognized by Euromoney for this year's awards, and am proud of the firm for its deep commitment to supporting women lawyers, both at the firm and in the profession," said Fuller in a recent interview.
Fuller, a partner with Fenwick & West LLP, regularly advises on major corporate and international transactions and planning matters. She is also substantially involved in representing the firm's clients in dispute resolution and federal tax litigation.
Fuller was previously honored as one of the top 25 Women Tax Lawyers in "Euromoney's Guide to the World's Leading Women in Business Law" in 2010 and 2012, and was invited to write the introduction to the tax section in both editions.
Fuller is also on the executive leadership committee of the International Fiscal Association, which is a highly-regarded worldwide group of leading tax advisors.
She holds a bachelor's degree in accounting from Whittier College, a JD from Loyola Law School, and an LLM in taxation from Georgetown University Law Center.
Click here to read more.