SportsFest
On
8 May, 2013
By
rrafferty
0 Comments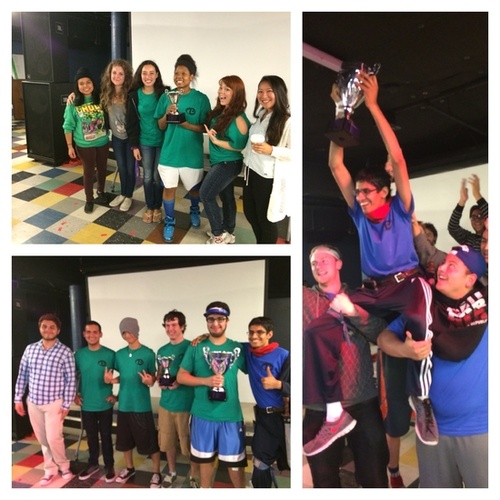 23rd Annual SportsFest Winners
The 23rd Annual SportsFest Competition with the superhero theme of Poets are Incredible hosted by Residential Life & LEAP has come to an end. The following are the team and area winners from the competition: 
SPIRIT SHIELD: The spirit shield is awarded by the SportsFest Committee based on spirit, good sportsmanship, a display of positive conduct and support of others throughout SportsFest.
Women - Kaplan's Angels
Men - WanBats
​WINNING TEAMS: The following are the male and female teams which earned the highest overall score from the 22 activities of the 4-day SportsFest competition. 
Men:
1st Place - Johnson Juggernauts (with 1538 points)
2nd Place - Super Smash Bros (with 1114 points)
3rd Place - WanBats (with 618 points)
Women:
1st Place - Vicious & Delicious (with 1122 points)
2nd Place - Turner Female Mob (with 1085 points)
3rd Place - Johnson's Angels (with 1053 points)
AREA CHAMPIONSHIP TROPHY: The championship trophy is awarded to the area with the highest point average across the teams in that area. The trophy is housed in the LEAP Office and contains the names of the area champions since 1991...
1st Place - "WaTurBall" or Wardman, Turner, and Ball Halls (with an average of 937)
2nd Place - "StoJo" or Stauffer and Johnson Halls (with an average of 750) 
3rd Place - "WHaCK" or Wanberg, Harris, Cambell Halls, and Kaplan (with an average of 562)
A full breakdown of the points are now posted in the window of the LEAP Office.  
Provide feedback about the competition at: https://orgsync.com/97652/forms/126796
                                                                 SportsFest Overview
Get your friends, neighbors, and classmates together for the biggest competition Whittier College has to offer.
Started in Spring 1992 by Ken Kelly, former Associate Dean of Student Activities who got the University of Miami, SportsFest is a multi-day competition full of games, fun, and rivalry, and where t-shirts and serious bragging rights are up for grabs. Loosely based on the Olympics, teams comprised of students, faculty, and staff come together each November (SportsFest was moved to the Fall semester in 1992) to build community spirit and participate in events that include:
traditional sporting events (basketball, dodge ball, etc.),
alternative competitions (talent show, poker, video / board games, table tennis, pool, etc.),​
service events (Red Cross blood drive, canned food drive, toy drive, etc.),
arts/craft activities (banner making, cake decorating, etc.), and
intellectual activities (scavenger hunt, movie quiz, etc.)
SportsFest is open to ALL Whittier students - athletes and non-athletes, residential and commuter students. To survive the competition, teams must achieve best overall scores in events and show spirit. Good sportsmanship is also awarded at a closing ceremony.                                                          
                                                                             Past SportsFest Themes / Winners
2013 - Theme: "Willie Wonka and the Chocolate Factory"
2012 - Theme: "May the Odds Be Ever in Your Favor"... (Hunger Games)
2011 - Theme: "Don't Stop 'Til You Get Enough"
2010 - Theme: "Chillin' Like a Villain"
2009 - Theme: "We're All Mad Here" (Alice and Wonderland)
2008 - Theme: "Save the Poet, Save the World"
2007 - Theme: "Quest for the Booty" (Pirates)
2006 - Theme: "Johnny Poet and the Sorcerer's Stone" (Harry Potter)
2005 - Theme: "Fear the Poet"
2004 - Theme: "Let's Get Physical!"
2003 - Theme: "Rise of the Poets"
2002 - Theme: "Is It In You?" 
2001 - Theme: "Who's the Strongest Link" 
2000 - Theme: "Get Your Sport On: A Decade of Tradition"
1999 - Theme: "Get in the Game"
1998 - Theme: "The Quest for the Best"
1997 - Theme: "The Hurt for the Shirt"
1995 - Theme: "The Fight for the HIll"
1994 - Winners: Stauffer House
1993 - Winners: Wanberg House