Senior Class Gift
On
2 May, 2013
By
Anonymous (not verified)
0 Comments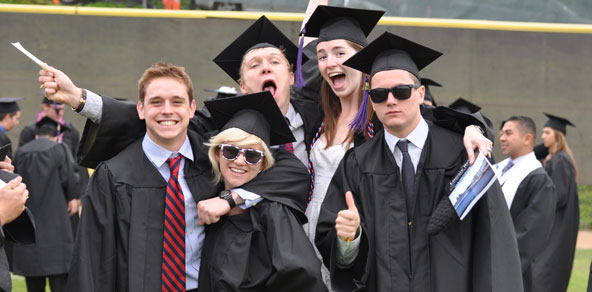 The Senior Class Gift giving site is live! Click here to donate today. 
What is the Senior Class Gift to the Whittier Fund?
The Senior Class Gift is a chance for graduating seniors to build class unity, identity, and spirit. Throughout the year, the College will host events to help seniors connect with classmates. The ultimate goal is to raise money for the Whittier Fund, which benefits every single student, faculty member, academic program, and department on the Poet Campus.
The Senior Class Gift to the Whittier Fund provides an opportunity for undergraduates to leave their "mark" and to give something back to Whittier College. It establishes the Class of 2015 as a prominent force propelling the Whittier Fund, now and in the future. By making a commitment, graduating seniors help ensure a great Whittier College experience for future generations of deserving students.
How can I contribute?
To help Whittier College maintain its national ranking and reputation as a leading liberal arts institution, the giving process is as easy as 1-2-3!
Ask a committee member (which is composed of fellow seniors) for a gift form and return it to her/him, or
Go to our secure online giving page, or
Send your gift to the Office of Advancement, payable to:
Whittier College
Senior Class Gift Committee
13406 East Philadelphia Street, P.O. Box 634
Whittier, CA 90608
What are the benefits of giving?
Gifts from members of the Class of 2015 increase alumni donor participation, enabling Whittier College to achieve a higher national ranking, increasing the value of the degree, and attracting more corporate and foundation gifts.
To show our appreciation, the Senior Class Gift Committee has established a series of gift packages to recognize your support. All donations of at least $20.15 will entitle you to a limited-edition stein and access to all senior parties.
Senior Class Gift Committee
Brittnie Vargas, Greg Carlson, Helene Sparangis, Jaimis Ulrich, Melissa Alfieri, Rosalie Atkinson, Sabrina Mercado, Vicki Mercado, Victoria Esquer, Rashad Butler
Senior Class Honor Roll
Thank you to the following seniors for making their Senior Class Gift. Your support is truly appreciated! 
Alyssa Adame • Duke Aku-Harakal • Melissa Alfieri • Jon Alioto • Chloe Alpert • Angela Alvarez • Andrew Anda • Michael Anda • Rosalie Atkinson • Gevork Atoyan • Charles Back • Katherine Back • Cruz Baez • Brina Barlow • Mary Brzezinski • Andrew Bucholtz • Rashad Butler • Greg Carlson • Nicholas Casarez • William Coombs • Laura Cornelius • Spencer Crews • Mercedez Cundiff • Sara Czworniak • Jacob De La Torre • Christopher DePriest • Monica DeShay • Katryna Dillard • Joshua Ehinger • Meagan Elizondo • Victoria Esquer • Matthew Evans • Joseph Evans • Austin Green • Devin Guthrie • Priscilla Gutierrez-Galvan • Thomas Hemington • Lisa Hom • Kalin Ibrahim-Bartley • Eesha Jagtap • David Jasso • Jonathan Jimenez • Takara Jones • Bryson Kihara • Talia Krebs-Oppenheimer • Janet Lafky-Sojka • Gabriel Lane • Sabastian Latting • Esther Leon • Cassandra Leyba • Jessica Littlefield • Robert Loakes • Thomas Mehari • Scott Mele • Sabrina Mercado • Vicki Mercado • Mauro Munguia JR • Noor Mustafa • Lauren Nico • Tyler Nollette • Erik Nyce • Courtney Partridge • Rakesh Patel • Marie Perez • Alexander Peterson • Melissa Pinlac • Kelci Quinabo • Zach Rager • Kaylyn Rhea • Bianca Rhodes • Ryan Richardson • Cervon Rogers • Diego Romero • Emma Sakuda • Noah Salvi • Jacob Sanchez •Robert Santoyo • Christopher Sekiguchi • Amy Sepersky • Terrileigh Shepherd • Helene Sparangis • James Stafford • Justice Stanley • Kelly Stinefelt • Tiffany Tsui • Shannon Tsumaki • Malia Valdivieso • Anabel Valdovinos • Brittnie Vargas • Adam Vega • Analy Ventura • Jannina Vicent • Jessica Webster • Andrew Xiong • Noah Zeko