Centers of Distinction
On
14 May, 2013
By
admin
0 Comments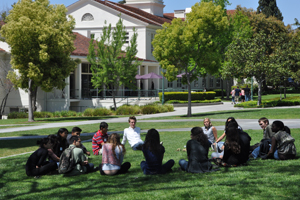 Whittier's liberal arts curriculum has always emphasized a true and immersive interdisciplinary approach to learning. Business, when studied through the lens of music, becomes innovative composition and enterprise. History, when channeled through psychological theory, becomes a powerful analysis of charisma. Physics, when considered via digital artistry, becomes an exploration of quantum chromodynamics.
And that's not all.
Woven throughout Whittier's curriculum is a core commitment to applied action. Here is not a passive community, but rather one that determinedly charts a course of discovery, adventure. Over the course of their undergraduate years, students are challenged to convert their acquired foundational learning to actualized, multi-dimensional experiences.
As a result, these students travel-study in the forests of Africa, in urban centers in South America, and in global corporate headquarters in Asia. They pursue fieldwork opportunities, collaborate with faculty on professional research projects and presentations. They publish in industry journals; they intern on Wall Street and Main Street; they undertake service projects in afflicted international and local regions.
The net effect is an unparalleled breadth and depth of perspective, practice…and possibility. These students are "doers" as well as "thinkers."  And this has been Whittier College's educational promise and practice for more than 125 years, successfully delivered to its more than 25,000 graduates.
WHITTIER COLLEGE'S CENTERS OF DISTINCTION
Whittier College's five Centers of Distinction were established in 2010 as a way to more clearly and strategically showcase the tremendous academic program in operation for more than a century.  These Centers rely on no physical campus space, but rather build upon the core strengths of a Whittier College education, highlighting the innovative instruction, interdisciplinary curriculum, and ingrained commitment to improving local and world communities. At heart, the Centers are intellectual mixing grounds, hosting opportunities for collaboration and conversation, experiential learning and deeper analysis and problem-solving, and an even greater exposure to diverse ideas and cultural perspectives.
Currently, Whittier College maintains five Centers of Distinction: the Center for Science, Health, and Policy; the Center for Collaborations with the Arts; the Center for Engagement with Communities; the Center for Environmental Sustainability and the Digital Liberal Arts Center
Building on significant financial investment and endorsement from private investors and such esteemed agencies as the National Institutes of Health, the Andrew K. Mellon Foundation, the Howard Hughes Medical Institute, and others, these Centers strive to deliver powerful interactive learning and critical professional experiences that ensure Whittier students are well prepared for career entry--and well-positioned for leadership—in the competitive, global landscape they enter upon graduation.