Research & Field Work
On
23 Apr, 2013
By
Anonymous (not verified)
0 Comments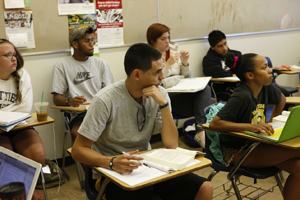 At Whittier College, our student body works in close, active collaboration with professors who are leaders in their fields. Together, this team of learners conducts research projects that push the boundaries of knowledge and inquiry.
For example, select students support faculty members with their professional academic investigations. At other times, it is the faculty who assist the efforts of students in pursuing groundbreaking new research. Students interact further with faculty members in programs that are part of the College's Centers of Distinction and take place at Garrett and Hartley Faculty Masters' Houses, on-campus residences where professors live for a multi-year term and coordinate and host an array of educational and social activities.
Within the Department of Sociology, majors enroll in SOC 310: Approaches to Social Research Methods. Students, in teams of three or four, conduct a pilot research project in partnership with a community agency. Students have worked with:
Whittier First Day Coalition (homelessness)
Conservation Corps of Long Beach (CCLB) (work, conservation, and education)
Boys and Girls Club of Whittier (after-school program)
Los Angeles County, Department of Public Health (health and wellness)
Bridge of Faith (foster care)
 
Research collaborations within the course serve to develop student familiarity with their community, its service organizations, and the opportunities for further internships and employment that these organizations provide.